This post is going to be a little weird for this site, but it is sort of a how to so it is going to go here.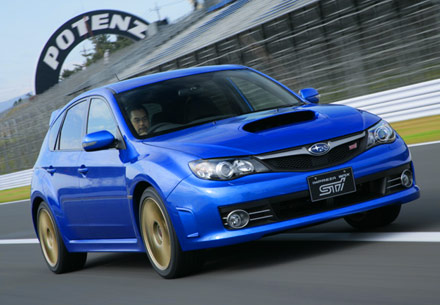 Attempting to find a decent used Subaru WRX is sort of like trying to find a job. It can get depressing because you know there are good ones are out there, but you have to sort through a lot of crap to find a good one.
The first thing you will want to do is figure out what your target year is.  All WRXs are good, but you will likely have a preference.  I like the 02-03 and 06s. If you don't already have a good handle on the differences there is a good question on yahoo answers regarding the body style differences.
Reliably is also something to consider.  Again, all years were good, but there were some common problems with 03,07,08s. Use truedelta.com to get more details. In order to get WRX data you will need to register and provide information about your current car.  If you don't have one just register someone else's car.   Regardless the website is a valuable resource. I will vouch for the site as I have had personal contact with the website owner several times over the last few years. https://forums.nasioc.com/ is also a good resource.
Finding the right car (resources)
The Hard Part:
https://carpricegraph.com/usa/subaru/wrx
This site mines data out of Craigslist nationwide.  Once you have exhausted your prospects after your original Craigslist searches this page is nice because you can check it a few times a day and know if anything new was posted in your area.  It is also very handy for pricing cars out.
https://forums.nasioc.com/forums/forumdisplay.php?f=89
is a very active sub topic within the North American Subaru Impreza Owners Club. Most of the cars sold here are WRXs or STIs.  Most of them are heavily modified, but not all.  It is sort of nice because you can often see feedback from people who know a fair amount about Subarus. It is a good place to start looking.
https://www.cargurus.com/Cars/forsale
This website seems to mine data out of just about every other commercial want-ads site on the internet.  It is mostly car dealer data, but it is still good, and lets you search by a bunch of different perimeters. In addition they have other good research tools on the main site.
The Really Hard Part:
People selling WRXs are not the most honest people in the world.  In my few weeks of hunting I found 3 with odometer rolled back, and several with salvage titles that were not advertised as such. I nearly bought one with a salvage title early on in my search.  Always assume it has been beat to hell because it probably has.  How do you plan to drive it?  Never trust what the owner says.  (I'm from the Upper Midwest, so I tend to trust people, but you really can't with this type of car.)  If you are searching outside of your home city, it is not a bad idea to get a month-long subscription to autocheck.com  It is a hell of a lot cheaper than driving to go look at cars based on someones lies. Autocheck isn't quite as detailed as carfacts, but it is cheaper and seemed to have the most important information.
Always ask for the VIN and really check it.
Use the persons legal name, phone number, Username (anything that makes them stand out) and check it in google/Facebook/Linkedin (Really Dig)
If they won't give you the VIN they have something to hide, and you probably do not want the car anyway. Occasionally, people are crafty and have good titles on cars they have repaired. (Probably bypassed insurance company and police on car a accident) If you really check someone out you will probably be able to tell if they repaired the car.  For instance, I thought I found a good WRX nearby.  When I searched the phone number provided I found several listings for WRX parts that happened to be from a WRX that was the same model year and color and another that was a year older.  According to the seller the car he was selling was all original.  Yeah Right.
The real key is waiting for the right car to come along.  You can post want ads different places, but I didn't have any luck doing that. You will probably have several failed attempts before you find a good car. It is very difficult to find an unmolested WRX.  It is probably best to budget an extra couple thousand bucks for parts when you buy one.
If you found my site you may have already found this forum post, but if not it has a huge amount of good technical information MAKE SURE TO TAKE A LOOK AT IT.  The forum  has the  technical details on the car you need to know, but my take home message is that you also need to do your homework on the person you are dealing with.
Thanks for stopping by!  Good luck with your search.
Lazy way out…
To be honest I finally gave up on the WRX and decided to purchase a car from someone I know (safest bet for any car).  It is a Saab 9-2x Aero which is really a 2005 WRX with different front body panels and a nicer interior. I know the current owner drives the car reasonably hard, but I also know he never crashed it and the engine is stock. If you are in the market for a WRX I would strongly suggest looking for a Saab 9-2 Aero.  The type of person driving a Saab is less likely to be hard on it than a person driving a Subaru. In total there were only about 4000 9-2 Aeros built and currently they are a little cheaper than WRXs.  I'm not sure if it is a great long term investment, but I will probably keep mine for a long time.  I don't think it will take too long for Saab collectors to come out of the woodwork.  The Saabaru is a strange child, but I don't have brand loyalty to either company so I will be happy with what I can find.
If you can think of anything that should be added to this post please comment.  I will add it to the original and credit you with your input.  This post is made to help out people like you.